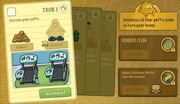 Puffle Tasks are tasks included in the Puffle Party 2013. If a penguin finishes one puffle task, he/she will get an item (members-only). If a penguin finishes all the tasks, he/she will get the Gourmet O'Berries and he/she can get into the cannon where it leads to the Cloud Forest.
Ad blocker interference detected!
Wikia is a free-to-use site that makes money from advertising. We have a modified experience for viewers using ad blockers

Wikia is not accessible if you've made further modifications. Remove the custom ad blocker rule(s) and the page will load as expected.